June Theme
Travel Journaling

June 27

Art Challenge: Photos and Words
Journal Prompt: A Picture is Worth a Thousand Words
Oh I need a break! I really really need a serious break! It's hot! I'm miserable! And I'm still moving house. This is ridiculous. I didn't have enough time to pack and I definitely don't have enough help. And I just want to go away and forget about everything for a little while!
I'm not sure why this whole month of "Travel Journaling" I've been firmly stuck in Mississippi. I guess it's because I'm very much a "staycation" kind of person. I love to travel, don't get me wrong but I think I just want to be home in my new house in my new bed without being bothered! Go figure.
This week's prompt is "A picture is worth a thousand words." I had printed another image of the lighthouse down in Biloxi a couple of weeks ago and I decided to use it because there is a really cool story associated with this particular lighthouse.
Down here in the South we get bombarded by hurricanes regularly. It happens. We don't always get massive storms and we don't always get hit but when we do get hit, it can be catastrophic. Even if we are just the land mass between Alabama and Louisiana.
This particular lighthouse was built in 1848. It saw the Civil War come and go. It has seen many storms, some devastating, pass it by.
Here is the lighthouse in 1892. It was already 44 years old at this time.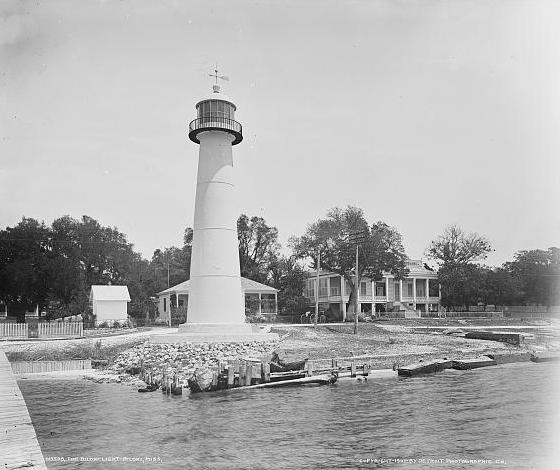 Here is the lighthouse in 1901. It was once much closer to the water than it is now.
The Biloxi Light after a massive hurricane in 1915.
Here is the lighthouse in 1969...before. In August of 1969, the worst storm on record at the time made landfall and destroyed the entire Mississippi Gulf Coast. Her name was Camille. I grew up on stories of Hurricane Camille. My mother was part of volunteer rescue/clean up efforts after the storm. Even though Camille ate everything around the lighthouse, the lighthouse itself survived. Biloxi rebuilt and the lighthouse itself became known as the "Biloxi Light".
In 2005, the worst storm on record to ever hit Mississippi made landfall. It was worse than Camille and Mississippians didn't think anything could be worse than Camille. Until they met Katrina. I won't go in to the devastation of Katrina here. Any minimal internet search can provide you with graphic images. But to say the least... nearly everything was lost. Nearly. But the Light of Biloxi still stood.
Ok, so only a couple of pictures... The above is self-explanatory. What was there before the storm and what was left after the storm.
This picture is from inside the lighthouse currently. These are the high water marks from Camille and Katrina.
This lighthouse became a symbol of resilience for Mississippi. What knocks us down can make us stronger. If the Biloxi Light can withstand all of this, then Mississippi can rebuild better and stronger than before. I was in Biloxi just two months before Katrina hit. And I saw it afterwards. Three years ago I went back to Biloxi.
The Biloxi Light still stands tall and proud and Biloxi is still rebuilding. Better and stronger than ever.
So when I saw this week's prompt, I knew that I wanted to use a picture of something that tugs at my heartstrings every time I think about it. After all, this lighthouse was on my license plate for five years and I saw it every single day even though I live about four hours away.
I kept this page simple because I wanted the image and story to be my focus. The photo was printed from the internet and adhered with Matte Medium then covered with Clear Gesso. The background is Neocolor II's. I couldn't resist adding a bit of stamping and y'all know that Uni-Ball Signo is never out of my hand for long. I used a Ranger Fude Ball pen in black to write over the Neocolor II's. I find that this pen really does write over most everything - even the waxiness of the neocolors!
That's my share this week. I hope y'all have a good weekend and if you're ever in Biloxi, Mississippi, be sure to stop by this beautiful landmark!